After verifying your email address successfully, you will be required to provide some information about yourself for us to perform KYC and AML checks required by regulatory bodies.
Refer to this article for more information about KYC and AML laws, why we perform these checks and how we store your data securely.
Section 1 - Identity verification and personal information
Enter your personal details as requested - you have to be at least 18 years old

Provide your full address - we will request proof of address documents

A valid phone number - we may send important account notifications or require it for security authentication purposes

When presented with the screen below, upload one of each document following our document guidelines - bear in mind if your proof of ID document shows your address on the front, you do not have to upload a separate document as proof of address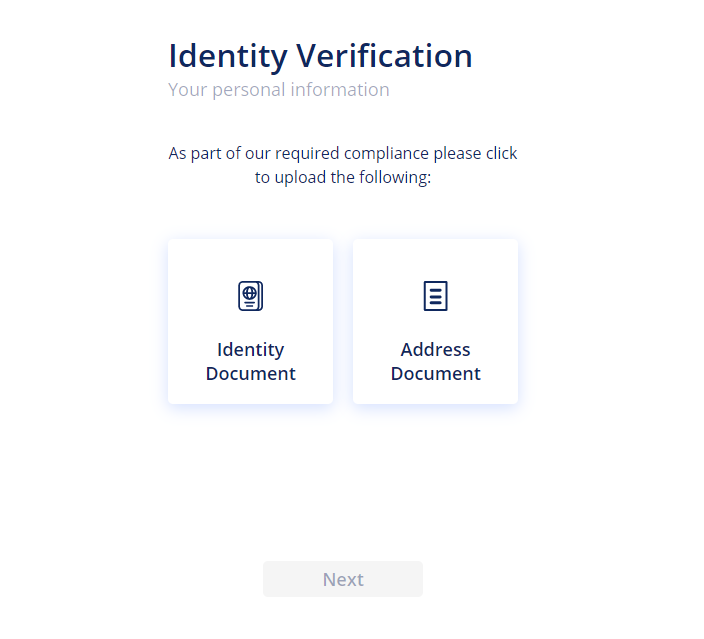 Section 2 - Employment, Financial information and Investment experience
To complete the checks required by our regulators, you will also need to let us know:
Your employment status and occupation

Whether you or a member of your family has ever been a public official in a political engagement. i.e a Politically exposed person (PEP)

Your financial information and tax identifier for IRS purposes if you are in the USA

Your investment experience and risk tolerance
Section 3 - Account Agreement
Please read through the account agreement carefully. You may also want to review our privacy policy.
Once you have completed the application steps above, it will be reviewed by our specially trained compliance team and if all the information was provided correctly, your application should be approved in a short timeframe. If more information is required, they will contact you through the provided email address with details.
Examples, diagrams, and charts are for illustrative and educational purposes. INX relies on information from various sources believed to be reliable, including from customers and third parties, but cannot guarantee its accuracy or completeness. INX is not engaged in the business of the offer, sale or trading of securities, is not registered with the U.S. Securities and Exchange Commission, and does not provide legal, tax, or investment advice. Cryptocurrency and other digital asset holdings are speculative in nature and involve substantial risk, including the risk of complete loss. Learn more about these risks here.
© 2021 INX. All rights reserved.